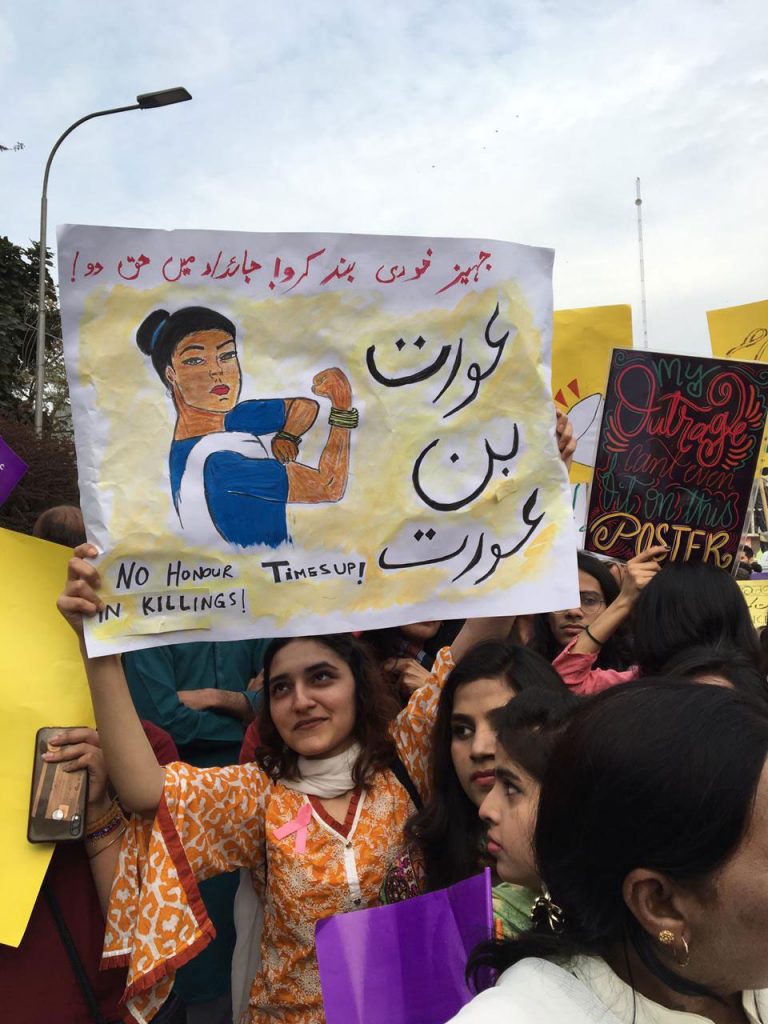 Our greetings to all the women of the world resisting capitalist patriarchy!
On the occasion of International Working Women's Day, we commemorate all our sisters and comrades who have given their lives to the cause of freedom against oppression, exploitation, and patriarchal violence. We remember our comrades from Tahira Mazhar Ali to Asma Jahangir, from Clara Zetkin to Rosa Luxemburg, from Leila Khalid to Sakine Cansiz. We commemorate all the women who have led the universal fight for women's liberation. We especially pay homage to the women workers who played a role in the declaration of March 8th as Women's Day in their fight for rights, with particular reference to Clara Zetkin.
We salute all our sisters fighting against the capitalist patriarchal world order globally. Today, we remember our sisters in Palestine and Kashmir who are fighting against cruel and unjust occupations of land, body, and spirit. We salute our sisters from Balochistan and other parts of the country, struggling for their rights and for the freedom of their loved ones. We are ever thankful and in debt to the women whose labour is ruthlessly exploited every day in our homes. We acknowledge their relentless labour – emotional and physical- in sustaining life. Along with them, we acknowledge all women whose labour is exploited every day in homes, in fields, in factories and in offices.
We also remember all the women who were murdered at the hands of globalized and systemic patriarchal violence, which includes wars, state oppression and terror, religious fundamentalism, terrorism, sectarian violence, male partners, fathers, husbands and lovers. In their memory we vow to continue our struggle for women's emancipation and liberation today and in the times to come.
This international working women's day, there is a new hope. The women of Pakistan are coming out in various cities, and we collectively march today to heal the wounds inflicted on our bodies and hearts by the forces of capitalism, imperialism, religious fundamentalism, feudalism, and militarism; all of which are implicated with patriarchy.
We must fight against the hypermasculine ideologies fortified by the state in the form of militarism, wars, armed violence and terrorism. Thousands of our people have suffered at the hands of these ideologies and forces. Today, we see men impacted by these very forces also protesting on the streets as our comrades and allies for justice, peace and an end to brutality.
We must fight against the patriarchal violence inflicted both on our bodies and on our lands. We must fight against the exploitation of this planet for profit which has led to the destruction of human life and the environment, along with the mass extinction of other life forms. Due to capitalist patriarchy, we are at the brink of losing any chance of sustaining life on earth in the decades to come.
We must remember the socialist origins of International Women's Day and continue to celebrate it in its true spirit. Hence, we must fight against capitalist patriarchy and the class oppression that millions in our country are subject to on a daily basis and for decades on end.
We call upon all the women, non-binary folk, and men to come join us in our struggle for the creation of a free world; a world where all of us liberated and our liberation is not based on another's exploitation. Let's join hands for a better, fairer, and more caring world thats fosters feminist values of care, community, and dignity.
Statement from workers and leaders of women democratic front
Issued by:
Tooba Syed
Secretary Information WDF