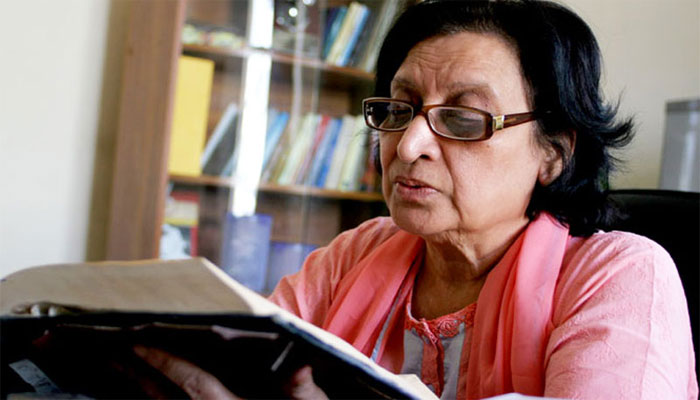 Rest in Power "Sinful Woman"
The leaders and workers of Women Democratic Front are grieved at the devastating news of the demise of Fehmida Riaz, after suffering from illness for the past few months.
Fehmida Riaz was an eminent feminist thinker, poet and prose writer. Her writings truly depicted the lives of Pakistani women. She always faced challenges for her political ideologies which she expressed through her writings.In her astounding narrative style, Fehmida covered themes from female desire to political consciousness. She had started writing at a very young age, managed her own Urdu publication named Aawaz. Aawaz was later banned for its revolutionary vision and for publishing articles on the ruling government. During Zia's dictatorship more than ten cases were registered against her. Fehmida was forced in to self-exile during this time and returned after his death. Her poetry of the time is filled with protest against the ruling social order. Her poem "chaadar aur chaardiwaari" is a political protest of a woman forced to remain in the confines of the four walls. Fehmida wrote about a woman's experiences under dictatorship, her book "Apna jurm sabit hai" was a collection of politically charged poems, speaking about the sufferings of the people living under military dictatorships, which she wrote during her exile. As a writer, she also warned her readers across the border of the rise of right-wing fascism.
Fehmida authored over 15 books, her second book badan dareeda caused a lot of controversy at the time. She was accused of using "erotic" and "sensual" language in her books because of its rebellious tone. She wrote about the lives and experiences of women and female desire, informed by feminism. The themes she wrote about are considered taboo in our society, despite immense political and public pressure she did not deter from writing.
Today we mourn not just the death of one of our finest writers but of a fellow comrade. WDF vows to continue the legacy of Fehmida Riaz for upholding the democratic values of social justice and equality for a socialist Pakistan. We pledge to fight against the same forces of dictatorship, fanaticism, patriarchy and capitalism which Fehmida Riaz fought against her entire life.
Surkh Salam.
Rest in power comrade!
Her poem taziyaati qarardadaiN is a fitting tribute to her life and legacy
Friends! Just do me this favor
Do not be unjust to me after death
Do not award me any certificate of religiosity
Do not say in the force of eloquence
Actually this woman was a believer
Do not rise to prove loyalty to country and nation
Do not try that the authorities own my corpse at least
Friends, friends
The invectives of the mean are my honours
Whether they may not come up to the pulpit
My lovers are no less
The beginning of reality is hidden in life
And dust and breeze are my confidantes
Do not go about insulting them
For the goodwill of the censors
Do not make the corpse apologise
My companion
Lest I cannot be shrouded
Do not worry
Leave my corpse in the jungle
So comforting is this thought
The beasts of the jungle will come for me
Without testing my thoughts
My bones and my flesh
And my heart like a glittering ruby
They will be happy to devour everything
Satiated
They will lick their lips
And in their obedient eyes will shine
What you might not say
That truth
This corpse belongs to a being
Who said whatever she wanted
Was never repentant lifelong'

Fehmida Mirza
Issued by:
Tooba Syed
Secretary Information WDF